JAPANESE LANGUAGE TRAINING - STUDY IN JAPAN
SSV offers a unique opportunity for our students to learn the Japanese Language.
We coach them to pass the Internationally recognised Japanese Language Proficiency Test - JLPT and also guide them to gain admissions in Top Japanese universities.
Japanese language is offered as a subject at the Senior Secondary Level and our students are appearing for Japanese in the CBSE Grade 12 Board exam.
The students from lower grades can also learn the language as an after-school activity.So far more than 100 students have learnt Japanese and many of them cleared the JLPT N5, N4 & N3 exams.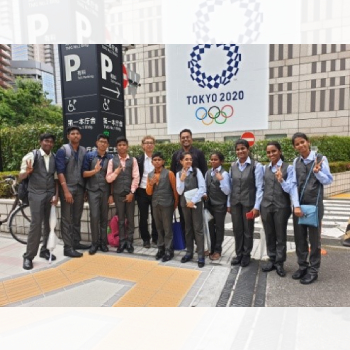 Our student S. Swetha has secured admission into "The University of Tokyo" PEAK program to pursue her BS in Environmental Science from Sep 2020.
She is also the 1st CBSE student to achieve this feat.
In June 2019 a group of 10 SSV students headed by our Correspondent Mr. Ashok Shankar visited Nippon Institute of Technology, Japan through the SAKURA SCIENCE PLAN a Student Exchange program in Science which is fully funded by JST, Japan.
We are confident of preparing our students to make full use of the opportunities available to international students in Japan & we are also sure that many of our students will have a very bright future in Japan.